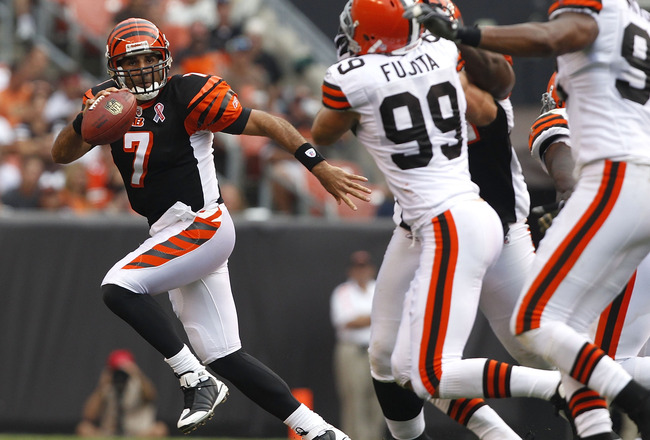 My first sentence for my review of today's Cincinnati Bengals-Cleveland Browns game was going to be "You can't lose 16 games without losing the first one." Well, at the end of the game, I am going to say, "You can't win 16 games without winning the first one." Today, the Bengals beat the Cleveland Browns at Cleveland, 27-17.
It started out great for the Bengals. Rookie QB Andy Dalton led the Bengals to 13 points. But then the second quarter came. The Browns stormed back. Browns QB Colt McCoy caught the Bengals safeties asleep twice. One was for a long gain and another was for a touchdown. Meanwhile the Bengals offense stalled. Browns ahead by one point, 14-13. The third quarter started and QB Andy Dalton was hurt. Bruce Gradkowski comes in for Dalton. If you're a Bengals fan, you know what is going to happen next. Epic loss.
But a funny thing happened on the way to a Bengals loss. They freaking stole a victory from the jaws of defeat. The defense held. The Browns would only muster a field goal. Football is truly a team sport. And the Bengals win was a team victory. Here are the heroes.
1. The Defense. They stopped the Browns in the second half.
2. Defensive Ends. Michael Johnson blocked passes. Carlos Dunlap was literally running over offensive tackles. His pressure on Colt McCoy was pivotal to winning the game.
3. Safety Reggie Nelson. He was everywhere. And he helped keep dangerous kick returner Josh Cribbs in check.
4. The Offensive Line. They were mashing the Browns. On the last Bengals touchdown, the line and Chris Pressley opened a hole the size of the Grand Canyon. Running back Cedric Benson ran through it for 38 yards and scored a touchdown.
5. Bruce Gradkowski. (Pictured.) His calming influence helped to stabilize the team. And what about that heads up play where he caught the Browns defense napping? A quick snap. It's a 41 yard bomb to A.J. Green. Touchdown Bengals.
It's only one game. And it's the first game. But you can't win sixteen games without winning the first one. :-)
Here are the highlights.