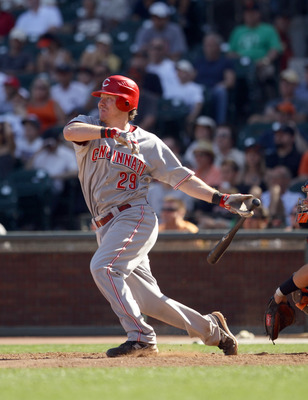 Yesterday, the Cincinnati Reds walloped the Milwaukee Brewers, 12-3 to complete a three game sweep. First, let's get the "it's early stuff" out of the way. Yeah, I would say that if the Reds lost three in a row to open a season but winning three in a row against an opponent that some say will win the National League Central is different. It's hard to sweep any team in a three game series and I don't care if you're at home or not. But the Reds did it. And in convincing fashion, they beat a good team.
Let's quickly go over the series. The Reds in game one were down by three runs in the ninth. And as they did a bunch of times last year, they won it with their last at bat on a dramatic walk-off home run by Ramon Hernandez. I was at the game on Saturday. Reds pitcher Travis Wood has the look of an ace. He threw to both sides of the plate. When it came to change speeds, he demonstrated he could do that also. The result? Seven innings pitched, seven strikeouts, one earned run and NO WALKS. Remember Wood almost no hit the Philadelphia Phillies last year. I predict he will no hit some team in his career. Yesterday, Reds pitcher Bronson Arroyo who is suffering from mono went seven and does what he always does. He kept the Reds in the game. Of course, that became moot because the Reds destroyed the Brewers pitching staff. And get this, yesterday back up cathcer Ryan Hanigan (pictured) blasted two home runs. The Reds have ridiculous depth at the catching position. Along with starter Hernandez, the Reds have in waiting at AAA, Devin Meseraco. There's last year's number one pick Yasmani Grandal. And the Reds have veteran Corky Miller to back up the starting two. Anyway here's the official story about
yesterday's game with video.
With the sweep, the Cincinnati Reds have sent a message to Central Division opponents and I do say to the rest of the league. The Cincinnati Reds are not going to rest on their laurels. We want a Reds October.